Berrias and Casteljau
Whether you visit the village with family or friends during your holiday in the Southern Ardeche, you will find plenty of activities to do and magical places to visit near the accommodation in our camping in Berrias and Casteljau.
A village in the heart of the Ardèche countryside
A secret destination for holidaymakers looking to recharge their batteries in the heart of an unspoilt and enchanting natural environment in the southern Ardèche, Berrias et Casteljau will seduce you with its diversity of landscapes and its Mediterranean climate. There is a gentle way of life here that is out of the ordinary and you will quickly fall under its spell. On the banks of the Chassezac river which runs through the village, you will find sandy and pebble beaches between gorges and canyons. The caves of La Tardive, the Cirque d'Endieu or the Grotte de Fromentin are among the places of interest in the Ardèche to discover in and around the village. But Berrias et Casteljau is above all the place to be for those who wish to discover the Chassezac gorges, which have nothing to envy to the Ardèche gorges, and the Païolive wood.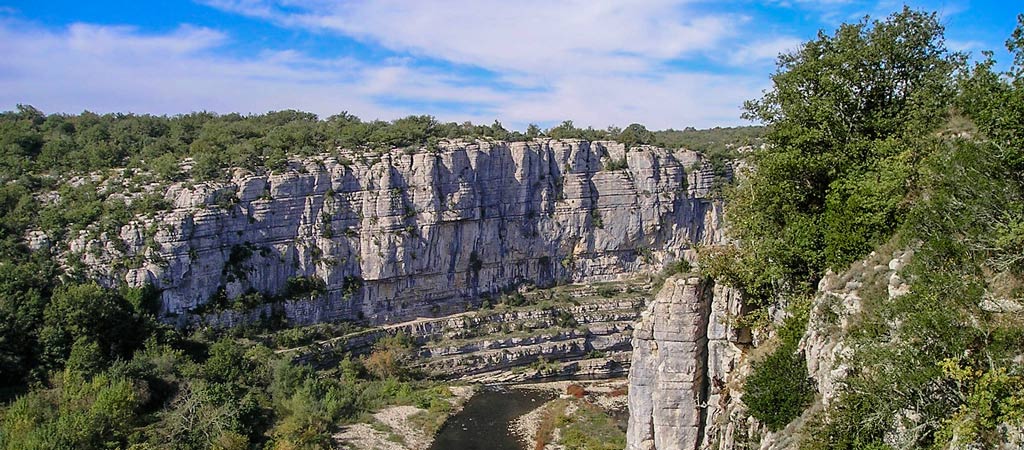 Berrias and Casteljau, a paradise for outdoor activities
The village of Barrias et Casteljau is also a paradise for water sports enthusiasts, rock climbers and hikers. The rock faces are less than 10 minutes away from Le Mazet Plage in the heart of the village, so why not take advantage of your holiday in Berrias et Casteljau to try climbing? There are several routes and the cliffs are accessible whether you are an amateur or an expert. Don't forget your camera, the panoramas over the river are breathtaking! For the less adventurous, you can practice accrobranches in complete safety by going to the Adventure Camp which is located in one of the neighbouring communes. More than 15 courses of different levels and difficulties await you. You can also team up with your children for a game of paint ball or laser tag in the forest. It's a great opportunity to spend a nice family holiday. Nearby, you can also visit some of the most beautiful villages in France, such as Vallon Pont D'arc and the Monts d'Ardèche regional nature park.
---