Camping in Berrias-et-Casteljau
in Southern Ardèche
Welcome to the Ardeche Sud Mazet-Plage campsite located at the entrance to the Bois de Païolive in the commune of Berrias-et-Casteljau, on the banks of the Chassezac and its magnificent gorges, ideal for climbing and canoeing.
4 star campsite
in Southern Ardèche
Our 4-star campsite in Berrias and Casteljau in the southern Ardèche welcomes holidaymakers on an exceptional site in the middle of nature in a protected and green environment. On the banks of the Chassezac river, you will find comfortable accommodation at reasonable prices for one or more nights, various services and facilities for your stay in the Ardèche, as well as numerous activities and entertainment to make your family holiday with children, as a couple or with friends a success. A snack bar restaurant, laundry and grocery shop will make your stay easier while the musical evenings of our friendly family campsite will leave you with excellent memories of your camping holidays in Southern Ardèche. Don't hesitate to check out our customer reviews for more information on our magnificent site!
Download our brochure & map
Campsite with swimming pool
in Southern Ardèche
Do you like campsites with water activities? Would you like to stay at a campsite with a swimming pool in the Ardèche? Our campsite is for you!

With its swimming pool, whirlpools and paddling pool, even without slides, our water park is both a children's playground and a relaxation area for adults, which will be very welcome during your holidays in the Ardèche in the Rhône Alpes region. We welcome you to Berrias and Casteljau in a pleasant and relaxing setting, 6 kms from Les Vans and 20 kms from the bustling Gorges de l'Ardèche with the Pont d'Arc cave and its Chauvet cave and the most beautiful villages of the Ardèche department. Alternate swimming and relaxing in our pools for young and old, with numerous walks and visits offered by the caves and villages nearby!
Discover the aquatic area
Camping pitches and
mobile homes in Ardèche
On an authentic site and in the middle of a preserved Ardèche nature, our Berrias and Casteljau campsite is a campsite in Ardèche with 137 shady and quiet pitches where we favour a family and friendly atmosphere. The pitches in the Ardèche are spacious and pleasant for setting up your tent, caravan or motor home on the water's edge. The campsite's wooded grounds also offer the advantage of being able to set up on a shady spot, for a welcome coolness, in a haven of peace and greenery.
Among the rentals of our Ardeche Sud campsite, discover our family mobile homes, comfortable 2 and 3 bedrooms rental accommodations: modern equipped kitchen, bedrooms separated from a well-appointed living area, bathroom and separate toilet in each mobile home. By choosing a mobile home for your next holiday, you also benefit from a private wooden terrace, sheltered and equipped with garden furniture, ideal for enjoying the good weather and relaxing in an exceptional natural setting or for eating outdoors. A change of scenery guaranteed for one or more nights!

Whether you come with a child, with the whole family, as a couple or with friends, choose your holiday accommodation between a camping pitch and a mobile home rental in the Ardèche at our Mazet Plage campsite for an unforgettable holiday.
Download our brochure
Cheap camping
in the Ardèche
Find the price list for mobile homes and pitches in low and high season of our cheap Ardeche campsite. You can choose your dates according to your budget.
The mobile home rates are given for a full week's rental, from Saturday to Saturday, and on the basis of 6 people (maximum capacity of the bungalows). For the pitches, the rates are given for the day with an arrival and departure at noon.
You will also find the rates for possible extras, such as the rental of a baby kit (cot, high chair, mini bathtub…) or for a pet. Please note that category 1 and 2 dogs are not allowed on our cheap campsite in Ardèche. It is also possible to pay all or part of the sum by Chèques Vacances, which makes your camping holiday in the South Ardèche even more advantageous!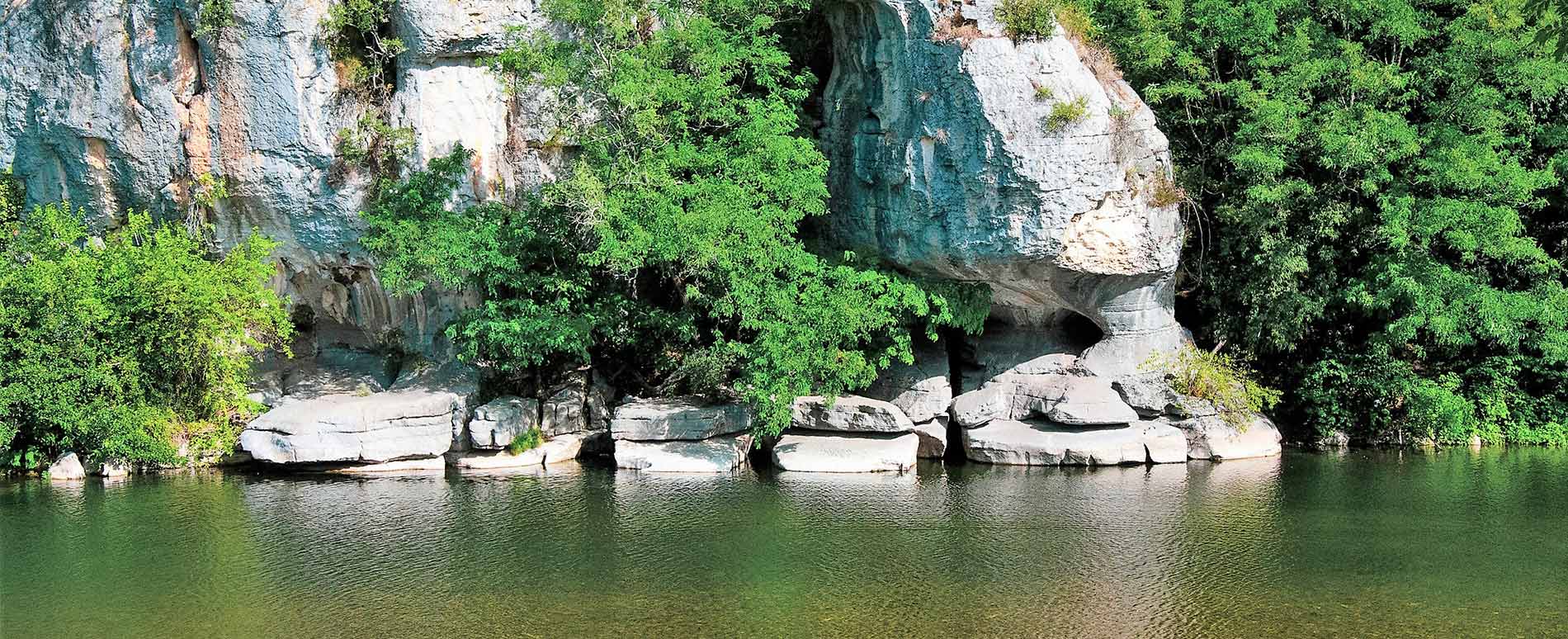 Discover the South of the Ardèche
from the campsite
Many activities in the Ardèche await you during your stay at the Mazet Plage campsite in both high and low season. You will enjoy the South Ardèche and the Ardèche Gorges, a huge playground for lovers of sports and nature: climbing, accrobranche, numerous hiking and mountain biking trails, caving, via ferrata, swimming, canyoning, canoeing down the Ardèche or the Chassezac thanks to our location on the banks of the river… there is something for all ages and tastes.
With its private beach and direct access to the river in the Gorges du Chassezac, our Sud-Ardèche campsite in Berrias and Casteljau is ideally situated and offers you the possibility to hire canoes without leaving the campsite and to discover a natural site of rare beauty. This is also a climber's paradise and a great opportunity to try climbing with the cliffs and rock faces of Le Mazet less than 10 minutes away on foot. Hikers will be delighted by the numerous paths in the Païolive woods near the campsite, which are on a par with those in the Monts d'Ardèche regional nature park or the Mont Gerbier de Jonc. Book your holiday in the Ardèche department now, close to many exceptional natural sites, between mountains and rivers, and enjoy our swimming pool! Plan your activities according to your start date!
Of course, don't miss the opportunity to taste the Ardèche specialities to regain your strength, or to visit the places of interest in the Ardèche in the pretty surrounding towns such as Les Vans and its museum, Saint Martin d'Ardèche and its Saint Marcel cave, the great site of Aven d'Orgnac and its prehistoric city, Ruoms and its Gens circus, Balazuc on its rocky outcrop or Vallon Pont d'Arc and its natural arch! Many other visits await you, including the charming little village of Chandolas, Labeaume and its hanging gardens, Lablachère and its megalithic bridge, the picturesque village of Sampzon, Salavas and its historical heritage, Vagnas at the gateway to the Cevennes, Lagorce and its magnanerie, Chauzon and Saint Alban Auriolles on the banks of the Ardèche… Some of these are among the most beautiful villages in France! And if you come in June, don't miss the Aluna Festival!
See you soon at Mazet Plage for a great riverside camping holiday in the southern Ardèche!
Download our brochure
The services
of the campsite

Grocery shop
Restaurant
Laundromat
Refreshment stand
Wifi
You are talking about
of us!
Notice of
laura besch
5/5
A wonderful stay in this beautiful region. The campsite is very family friendly, clean and very well maintained. Our mobile home was super clean, we really liked it here. The swimming pool and the river on the campsite are a real bonus. We will definitely come back. Good food!!!
Notice of
Sabrina Laurent
5/5
The campsite is very quiet and very clean, the mobile home is also very clean in a magnificent setting with a river swimming pool and restaurant. The staff are very welcoming and available. Good price, good holidays for a good price! Offers interesting activities for the children and themed evenings for the family. We will return next year with pleasure 👍
Notice of
Phil Dumorter
5/5
I stayed 4 days in this beautiful place. The campsite is situated on the river where you can take the shuttle canoe from the campsite. The site is wonderfully maintained, the pool area is great for small children the small pool is great. I would love to return to this beautiful and friendly campsite.
Notice of
Dominique Nicollet
5/5
Super quiet family campsite. Very nice swimming pool.